Lac de Gras, NWT
The Monument Property is strategically located on the south shore of Lac De Gras, NWT. Kimberlites of the Monument Property form part of the Lac de Gras cluster and occur within 40 km of both the Ekati Diamond Mine and Diavik Diamond Mines Ltd., which together produce a noteworthy percentage of the world's diamond production.
The property operates under a joint venture with Equity Metals Corporation acting as operator. The Monument project JV owners are: 57.49% Equity Metals Corporation, 22.11% Chris and Jeanne Jennings and 20.4% Archon Minerals Ltd. (Stu Blusson). 1% NSR is payable to each DHK Diamonds Inc. and International Royalty Corp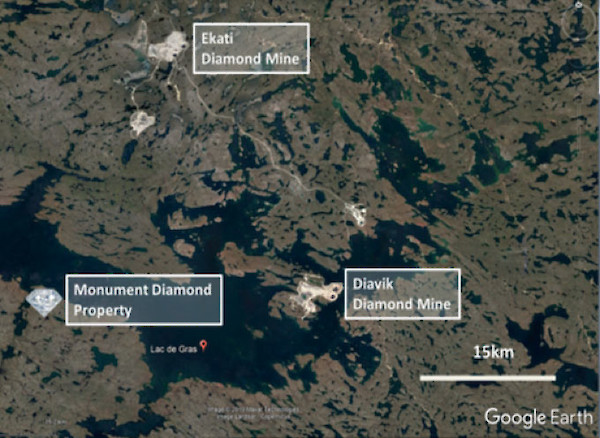 Figure 1 - Location of the Monument Diamond Property
The Monument property has twelve known kimberlites. Drilling on land based targets during recent programs found several new kimberlites including Genie, Bling and most recently the Trio, Gemini and Sparky kimberlites. Drill sampling in 2007 of RIP extracted larger samples where 2,201.7 kg of kimberlite produced 955 diamonds including the largest diamond found to date from the Monument property weighing 0.445 carats. On the DD17 kimberlite, 2,137.6 kg of kimberlite produced 964 diamonds.
In Q4 2019, Equity Metal updated its 5 year Land Use Permit on the property which will allow continued exploration of the project.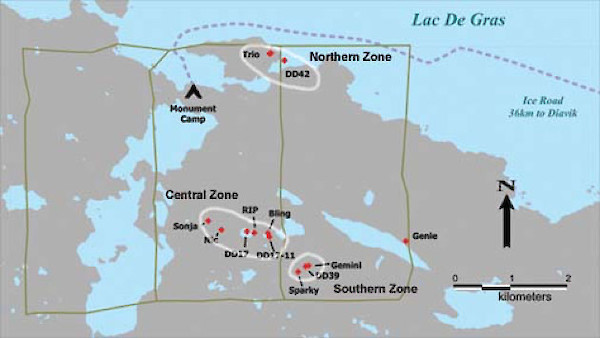 Figure 2 - Location of discovered kimberlite clusters on the Monument Property
HISTORY RECAP
The Monument Property is located in the Lac de Gras district, 300 km north of Yellowknife and is accessible by float and ski plane and winter ice road. It was staked in 1992 by DHK Diamonds Inc. ("DHK") and worked from 1992 to 2003 by Kennecott Canada Exploration Inc. ("KCEI"). New Nadina (now Equity Metals Corporation) acquired the property in 2004 at which time there were five known diamond bearing kimberlites on the property (DD17, DD39, DD42, DD2002, DD17-11). In 2004, the Company and partners took the three claims, DHK 16, 17, and 18 to lease, acquired a Land Use Type A Permit and commenced active exploration in 2005.
The Monument Joint Venture has since discovered eight diamond bearing kimberlites: Sonja, Nic, Rip, Bling, Genie, Trio, Sparky, and Gemini. There are currently four reference zones or strings, the northern, central, southern and eastern, of kimberlite clusters. Along with diamond drilling, various types of geophysics have been conducted as well as closer spaced till sampling searching for kimberlite indicator minerals. An all season camp is positioned on the south shore of Lac de Gras.
Northern Zone: The Trio and DD42 string are in the north on the south shore of Lac de Gras. The DD42a is the most westerly and most recent under water target tested of the DD42 string of geophysical targets. A further winter program is necessary to test the remaining targets and acquire kimberlite for diamond content and analyses.
Central Zone: The largest kimberlite within the string is DD17 and is just over a hectare in size. It is located in the middle of the central zone in close proximity to two pipes to the west and three to the east. There are component similarities of the kimberlites in this string with diamond recovery ranging between 434 to 594 stones per tonne. The central zone is the most tested to date and consists of Sonja, Nic, DD17, RIP, Bling and DD17-11.
South Zone: The south zone contains kimberlites DD39, Sparky and Gemini. Within this zone remain at least two untested targets. The core samples from these pipes have produced samples of 473, 458 and 422 stones per tonne.
East Zone: There is also a cluster of small targets in the zone near the east boundary where the Genie kimberlite is located.
Table 1 - Monument property: Microdiamond recovery from core samples to date: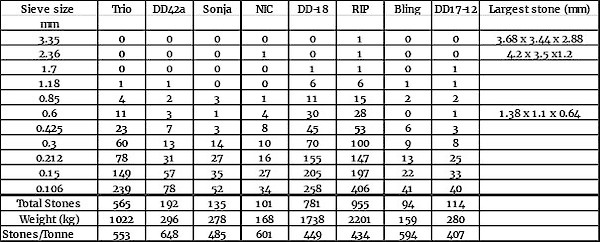 The largest diamond recovered from the RIP kimberlite measures 3.68 x 3.44 x 2.88 mm, weighs 89.129 mg. which is 0.445 carats.
For additional information, click here for a detailed report on the property.
In conclusion, Equity Metals management believes there is sufficient historical data to indicate that further exploration is warranted. The Company will discuss with its JV partners the next steps to advance the project and then plan a budget for a systematic exploration program to test the various targets and acquire further kimberlite for diamond content and analyses.